BEATLES WORLDWIDE ENCYCLOPEDIA FOR BEATLES SINGLES AND EPíS



After releasing our 4 books Epís and Singles; Europe and Worldwide, the time has come for an update. Thanks to so many contributors worldwide, we were able to collect many new treasures and updates for our books. Because of the huge amount of information, it seems impossible to gather it all in 4 books or even in 10 books. Thatís why Azing and I decided to make a series of books from A to Z, called: a Beatles encyclopedia for singles and EPís. We will split up the books in approx. 30 volumes. We commit ourselves to release 4 books every year. The books will be published in a handy format and contain 50 to maximum 70 pages each book. Moreover, they have a hard cover and are printed in full colour.

The content of our books will certainly blow you away because it will contain so much detailed information and pictures of all labels, front and back sleeve variations, release dates, promoís etc. Upon general request, it will also include a rarity index on all releases. The books show the countries in alphabetic order and are subdivided in chapters. Chapter 1 deal with the Greece Beatles era singles, Chapter 2 show the Beatles EP's from Greece, Chapter 3 discuss the Guatemala post Beatles era singles and Chapter 4 show all the Indian Beatles singles.



COVER OF OUR TWELFTH BOOK




| | |
| --- | --- |
| | |
| Preview of our twelfth book Volume 12 (Greece singles) | Preview of our twelfth book Volume 12 (Greece singles) |
| | |
| --- | --- |
| | |
| Preview of our twelfth book Volume 12 (Guatemala singles) | Preview of our twelfth book Volume 12 (India singles) |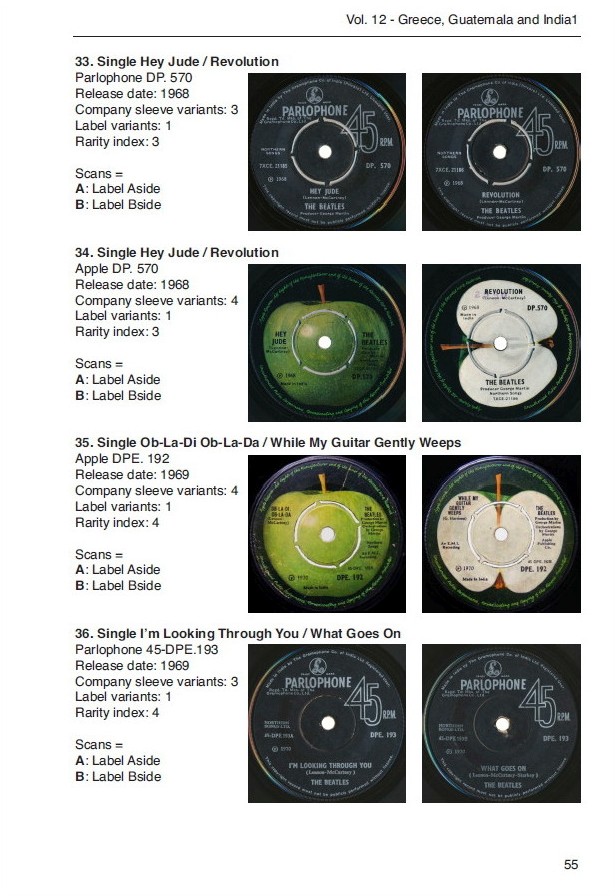 Preview of our twelfth book Volume 12 (India singles)



On the price of the book, Azing and I decided to produce the books by print on command to avoid high costs and risks of overstock due to bad sales. Therefore, these books will not be numbered and available as long as you want. Thatís why production costs will be slightly higher and there is no space anymore for any discounts. At this moment we set the price for the books on 25 euro, which is a normal price for such a detailed private work. The books are not heavy and measure 17cm by 24,5cm (6.6 x 9.5 inches). This way we can reduce the shipping costs for sending the books over the world.





IN PREPARATION

We did already lots of research on the 14th book with singles and EP's from countries; Italy 1, the 15th book singles and EP's from Italy 2, which will be released in the second half of 2017. Keep an eye on our website for more info.




| | | |
| --- | --- | --- |
| | | |
| COVER OF OUR THIRTEENTH BOOK (February 2017) | COVER OF OUR FOURTEENTH BOOK (October 2017) | COVER OF OUR FIFTEENTH BOOK (October 2017) |
Any suggestions or questions, please fill in the contact form.