BEATLES EP'S AND SLEEVES FROM AROUND THE WORLD (OUTSIDE EUROPE)
PREFACE BY BRUCE SPIZER
We have now succeeded to compile every known 45 rpm and EP of the Beatles in a series of 4 books.
A QUICK PREVIEW OF OUR BOOK
THIS BOOK HAS THE SIZE OF AN LP
THIS BOOK IS PRINTED IN FULL COLOUR
THIS BOOK SHOWS HIGH QUALITY PICTURES (You can see every detail in each picture of the labels and the sleeves).
THIS BOOK IS PRINTED IN A LIMITED QUANTITY OF 1500 PIECES.
THIS BOOK IS HAND SIGNED BY THE AUTHORS
THIS BOOK SHOWS YOU:
NEW !!! BESIDES THE FRONT COVERS ALSO ALL BACK SLEEVES AND LABELS WILL BE PUBLISHED THIS TIME
EXTRA INFORMATION ON ALL PHOTO'S USED ON BEATLES EP SLEEVES
FULL DETAILED DISCOGRAPHIES, ALL THE PICTURE SLEEVES IN COLOUR PRINT (ALSO THE MANY COLOUR VARIANTS), FLEXI's, PROMO's, TEST PRESSINGS AND LABEL VARIANTS RELEASED BETWEEN 1961 AND 1971 IN THE FOLLOWING COUNTRIES: (AS SHOWN ON THE COVER)

ARGENTINA
AUSTRALIA
BOLIVIA
BRAZIL
CANADA
CHILE
COLUMBIA
COSTA RICA
INDIA
IRAN
ISRAEL
JAPAN
LIBANON
MEXICO
NEW ZEALAND
NIGERIA
PAKISTAN
PHILIPINES
RHODESIA
SINGAPORE
SOUTH AFRICA
THAILAND
URUGUAY
USA
VENEZUELA

Dear Beatles fan and collector,

After finishing a research of nearly 14 years, this fourth book is another fascinating journey in the making of the Beatles world wide singles and EPís discography. We have succeeded to compile every known 45 rpm of the Beatles in a series of 4 books.

Similar to our previous books, we were lucky to count on a reliable network of expert collectors. Most of them became good friends and were at any time prepared to let us scan their valuable collectables or solve our difficult questions. It must be stated very clear: without them, we would never succeeded in this huge project.
OUR FOURTH VOLUME: BEATLES EP'S AND SLEEVES FROM AROUND THE WORLD - ILLUSTRATED EP DISCOGRAPHY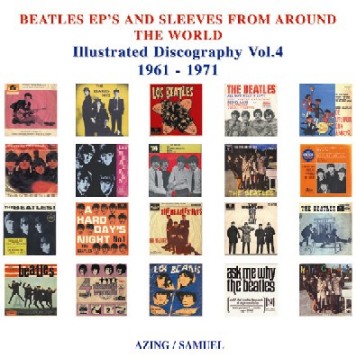 Referring to our previous book, Beatles EP's and Sleeves from Europe - Volume 3, in which we have proven to surprise many by showing some of Europeís rarest EPís, this book has also the ambition to impress both collectors and fans. Again, we will show front and back side of every EP, labels and rare label variations, as well as hard to find promo releases. We will explain in depth the origin of the pictures on the sleeves, inform you about release dates and chart positions, that is if the required information could be found. In other words, this book takes you on a world wide tour of exotic locations, such as Bolivia, Colombia, India and South Africa, which illustrates the huge impact of the Beatlesí music and reputation during their active career.
| | |
| --- | --- |
| | |
| A first preview | A second preview |
BOOK PRICE: 25 Euro CLICK HERE TO BUY IT NOW!!!
THE DUTCH AUTHOR AZING MOLTMAKER AND MYSELF STARTED A PROJECT FOR A SERIE OF 5 BOOKS WITH THE TITLES:

VOLUME 1: THE BEATLES EUROPEAN - SINGLES (45rpm 7") OUT NOW!!!
VOLUME 2: THE BEATLES THE REST OF THE WORLD - SINGLES (45rpm 7") OUT NOW!!!
VOLUME 3: THE BEATLES EUROPEAN - EXTENDED PLAYS (E.P.'s) OUT NOW!!!
VOLUME 4: THE BEATLES WORLDWIDE - EXTENDED PLAYS (E.P.'s) OUT NOW!!!
VOLUME 5: THE BEATLES WORLDWIDE - RARITIES FROM 1961 TILL NOW