COLLECTORS INTERVIEW
Interview with Simonne from Belgium about Doo Wop and early Rock 'n' Roll
Our first interview took place at Simonne's. It's a small room, completely stuffed with records, where she stays most of the time. It contains the treasures, that she's been collecting since her youth. Besides Barbie dolls and comic books, we can't overlook the enormous amount of 45 rpms and EP's, that are stored on handmade shelves in this remarkable room.



Which styles of music do you collect?
"I mostly like thrilling and exciting sounds like in Doo Wop, Surf, Phil Spector Sound, Motown and Girl groups music, but I often play a Teen Sound and early Rock 'n' Roll record. Especially the American EP sleeves fascinates me: they are lovely, with their thick sleeves and beautiful colour photographs. But I can't say no to a nice album as well."

Simonne is a very passionate collector and that's why she gives an instant explanation about the above mentioned styles:
Doo Wop
"Doo wop can be considered as a sort of a capella style of music that gain popularity during the twenties of last century, especially among the black population in the US. Because it needed to be suitable for dancing, doo wop music often is upgraded with additional instruments. At the end of the fifties, there is a huge hype of doo wop, that's illustrated by the success of the Marcels' Blue Moon.
Teen Sound
Teen Sound focussed mainly on teenagers. The whole style of music was based on the good-looking young male artist, who played simple music with a easy to recognise tune and typical teenage themes. In fact, it was similar to rock and roll, but without the sharp edges."


How many records do you have, and how did you start collecting?
"If I make a rough estimation, I think I own about 2.000 records, but to be honest, I don't keep a detailed inventory of my collection. A cousin of mine used to have an old record player, and as a child, I was fascinated by the small 45 rpm records that he played on it. So that's why I wanted already such a record player when I was only 8 years old! Another device that has struck me was a jukebox: for hours, I could watch the records, that were taken by this mysterious mechanism, simply by pushing one button. I was very lucky when I could buy this jukebox many years later." It's without saying that this beautiful Rock O-La jukebox, in its complete, original shape, is the crown jewel of her collection. The jukebox still plays perfect and every time Simonne puts a record on, the music carries away her thoughts back in time. That's why she has a strong emotional bond with this jukebox.
Where did you find all these records?
"Thanks to my mother, I was pushed into the direction of second hand stores and flee markets, where I spent a lot of hours to investigate the offered records and to select the interesting ones. During the seventies and eighties, this wasn't so hard to do. Most of the fifties and sixties vinyl didn't catch the attention of potential buyers…it was simply considered to be old stuff…you could easily buy a whole box of records for little money. But now, I'm realizing that those days are over. Nowadays, you have to pay huge amounts to buy rare records and special editions. Nevertheless, I find some treasures for a low price every year."

How do you take care of your collection, and do you actually play them sometimes?
"For me, record collecting is all about the music. That's why I play my records regularly. Every week, I reserve half a day, and than you can find me in my little room, listening to my records.
The collection is sorted in an alphabetical order, but my Dutch Motown records are catalogued by release number. From the 93 known Motown releases from The Netherlands, I still miss 23 records.
| | |
| --- | --- |
| | |
Simonne's Top 10 of rarest records.
EP - Eddie Cochran
Singing To My Baby
USA - Liberty LEP 2-3061

EP - The 5 Satins
The 5 Satins Sing
USA - Ember EP 102-45

---

SP - Eddie Holland
Candy To Me
HOLLAND - Motown Artone GO 42.580

EP - Bobby Fuller Four
I Fought The Law
FRANCE - London REL 10.179

---

SP - Marvin Gaye
It Hurt Me Too
BELGIUM - Oriole CBA 1803

SP - The Marcells
Allright, Okay, You Win
HOLLAND - Colpix CX 42.904

---

SP - The Francettes
I'm Leaving You
USA - Wolfie W-104

SP - The Arabians
The Shack
USA - Twin Star Dart 1018

---

SP - The Delcos
Arabia
USA - Showcase 45-2501

SP - The Pretenders feat. "Jimmy Jones"
Daddy Needs Baby
USA - APT 45-250626
Simonne wants a helping hand from fellow collectors:
Some time ago, she bought a record, but couldn't find any information on it. It's a mint stock copy from a Girl Group from the 60's. If someone knows more about this record, group or label, please contact the webmaster.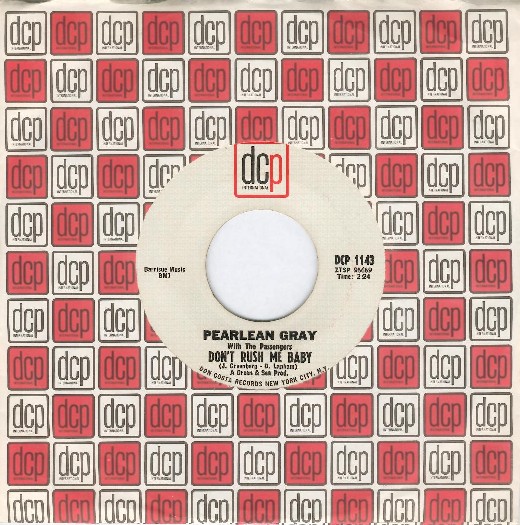 Pearlean Gray with The Passengers
Don't Rush Me Baby
USA - DCP 1143
IF ANYONE CAN TELL US MORE ABOUT THIS RECORD, PLEASE SEND AN E-MAIL.
THE SAR LABEL

Finally, Simonne would like to give the readers some more information on a rare label: "SAR Records". In fact, this label was owned by Sam Cooke, of which she's a huge fan. Sam Cooke produced records for several artists, like the Valentino's, who had a modest hit with "It's All Over Now", which was picked-up later on by the Rolling Stones. Sam Cooke's brother (L.C.) and other artists like Johnny Morisette can also be found on the SAR label. Of course, they all sound completely like Cooke, but the releases on this small label are very much sought after by collectors.
Before we go, we asked Simonne which record she still misses and hasn't been able to find up till now… let's call it her "Holy Grale."
"Actually, I have a sleeve of Dick Dale and The Del-Tones from the US, but I still miss the record. Releases of Dick Dale are not easy to find, but this record is the only one that came on the market in a US with picture sleeve. If someone could lead me to the record, I would be very very happy…."
Dick Dale and The Del-Tones
Hava Nagila
USA - Capitol 4963
Simonne's Want-List

1. The 5 Satins
The 5 Satins Sing (RED COVER)
USA - Ember EP 103-45

2. Dolly Parton
Puppy Love
USA - Goldbrand G-1086

3. The Valentino's
It's All Over Now
USA - SAR Records SAR 152

4.The Miracles
A Love She Can Count On
Holland - Motown Artone 42.551

5. The Darnells
Too Hurt Too Cry, Too Much In Love To...
Holland - Motown Artone 42.567