FAKE BRAZILIAN SLEEVES
---
For about twelve years now, I'm collecting Beatles singles and EP's from all over the world. Almost every day, I'm searching auction sites, online web stores and record fairs to discover sleeves and pressings from Beatles records, that were never seen before.
Some years ago, picture sleeves of Brazilian singles showed up that were never discovered before. These sleeves belonged to singles, starting with "We Can Work It Out" (1966 and later).
Normally, one would suspect that later pressings, like "Hey Jude", were released in larger quantities than e.g. Brazils first single "Please Please Me". Nevertheless, picture sleeves of Apple and later Odeon pressings are harder to find than the early Beatles singles.
What is the reason for these strange appearances?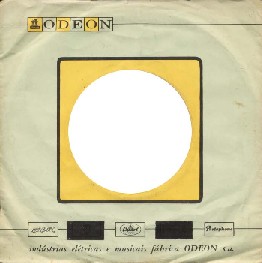 The above showed Beatles records all belongs
in this company sleeve.


After I had discovered these beautiful, but very rare and mysterious picture sleeves, I contacted a fellow collector in Brazil to ask if he knew something about this strange matter. He told me that after 1966, Beatles singles were sold in company sleeves only.
So that lead me to the inevitable conclusion that the picture sleeves, that I had seen (and bought), were designed by someone, who undoubtedly needed money by selling these fake sleeves.

To prove my conclusion, I began with a detailed investigation of the picture sleeves. I discovered the following:
On the bottom of the picture sleeve, mostly on the front, I discovered a fine line in the plastic, that enwrapped the paper sleeve. This line could be seen on the entire length of the sleeve. All the early (original) Brazilian singles that I own, don't have this bizarre line.
This line can be explained as follows: after designing a fake paper picture sleeve, one takes a complete Brazilian picture sleeve (from another artist – they all had plastic covers), one cuts the plastic very carefully and removes the paper sleeve, which is than replaced by the fake Beatles sleeve.
Afterwards, one closes the plastic and seals the sleeve, that still reveals a very fine line.
You may think that this is jumping to conclusions, but I even discovered typical ink-jet printing errors on these self-designed sleeves, which should be very extraordinary for a genuine sixties sleeve.


After this discovery, I went searching for the person, from who I had bought all these singles. I was surprised to discover that they all came for one source: the person is known on Ebay as "penny_lu" (Luciana Pereira Butti & Rosemary Da Conceicao - Rio de Janeiro - Brazil), now also known under the new nicknames "tanaka_05", "Pete Leco" and now by "pica_pau08".

After reading some of the feedback, given to this person on eBay, I discovered that more "rarities" and other fake sleeves were manufactured. This way, I discovered a so-called export pressings to Paraguay, Uruguay, Bolivia and Chile, but also some Dutch (!) singles, that were put in a newly designed plastic sleeves. As most collectors know, Dutch singles were never released in such plastic sleeves.
Other original Brazilian EP sleeves were given another design and sold as genuine sixties sleeves. To give an example, the EP's "I Want To Hold Your Hand", "Anna" and the single "I Feel Fine" are amongst them. I'm positively 100% sure that these so-called export pressings are fakes. At this moment, this person is selling solo records with fake sleeves from "John Lennon", "George Harrison" and "Paul McCartney".
They are sold for high prices between $30 and $80. The records are always Brazilian pressings and could be original but the sleeves are always fake.
New information is that the line in the plastic dissapears, that means that she has a new trick to open the plastic for putting new designed sleeves inside. Probably this happens from the inside of the sleeve, where the record fits. (info added 1/08/2008)



ALL FAKE SLEEVES


To prove my conclusion, please visit the website of the official Brazilian Beatles fan club where you can read the same story, in which these affairs are explained:
www.thebeatles.com.br



To all our fellow collectors, I have one more thing to say: please let us warn as many people as possible about these cheating practices, because this endangers the trade in original Beatles singles seriously. I hope this warning helps other collectors not to step into the same trap as I did.

If you want to talk about this or give your opinion, please feel free to use our guestbook.




Samuel Coomans
21/02/2005